scribble
hey! i'm scribble. i grew up with petz, first owning petz 2 and then realizing that there was a whole budding community out there. i owned harvest from my pre-teens throughout most of my teenage years and welll here i am again!
i'm 30 and live in canada. i have a kitten, liara, who is always up to no good but is also such a cuddlebug. i'm currently a graduate student working on my thesis in UX, after going through a big career change.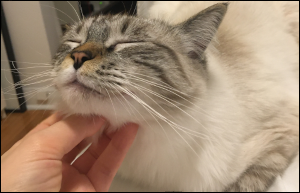 hi i'm liara! i enjoy freeze-dried fish treats, spring toys, getting brushed and giving headbutts. i'll be 1 year old on march 31st :)

get to know me
how often did we do these as kids?! since petz is nostalgic, might as well! questions taken from kind of all over! feel free to let me know your answers in the cbox on the main page, or feel free to add these questions to your about page.
what are you most grateful for? being healthy and fortunate enough to be able to provide for myself.
tea or coffee? coffee with lots of milk :) can't start a day without it!
favorite season and why? fall, hence the name harvest! i love seeing the maple leaves turn orange and yellow come autumn!
what is your family ancestry? i'm eastern european and my folks are 1st generation immigrants to canada.
what is your greatest fear? being deeply unhappy. i try to be grateful for the little things.
favorite movie: i think it's honestly still eternal sunshine of the spotless mind, which has been my favorite since high school.
what type of music are you in to? my favorite genres are folk-rock, rock and trip-hop. i'd say my favorite musicians are massive attack and sufjan stevens.
proudest accomplishment: leaving a job that led to a burnout and finding a new path that fulfills me :)
sweet or savoury? definitely sweet, i have the biggest sweet tooth!
would you say you are more of an introvert or an extrovert? younger me would definitely say introvert, but i think i'm pretty 50/50 at this point :)
pet peeves? loud chewers omg. people spitting on the street. folks blaring their music without earphones in public.
what do you do for work? i used to work in health care and am now almost half way through my grad studies in user experience!
what do you think makes someone a good person? this is so subjective! i really appreciate humility, kindness and empathy.
are you in love, or have you experienced true love? not currently, but i'm still friends with my first love. i actually didn't believe in it until i first experienced the feels!
what is a relationship or a friendship dealbreaker? it's been a dealbreaker in a past relationship- seeing oneself as better than others.
what personality trait are you most proud of? being a generally positive person and trying to make the most out of every moment.
would you rather have your dishes or clothes be magically clean? oh my gosh dishes, i hate doing the dishes! the sad looking sponge, trying not to get water to get everywhere lol
favorite kind of ice cream? easy, definitely soft serve, half vanilla and half chocolate. such a classic!

© scribble