adopt
all petz are bred in p4. please keep harvest's in the show prefix. POTL, adopted, special note. don't put 'em up for download, but there otherwise they're yours! application form is at the bottom of the page. please feel free to request a litter. newest litters at the top.

clinton (m) ♥ byleth (f) ♥ jennifer (f) ♥ adriana (f) ♥ shiitake (m)
purebred dalis from my two newbies from amanda ♥ i was surprised by all the brown, since neither of the parents have brown coats! shiitake has almost selfie lids, but not quite. loving the eye color variation here!


cadbury (m) ♥ aero (m) ♥ kit kat (f) ♥ nutella (m) ♥ lindt (f)
well it's been a while that i haven't bred some classic cali mixies and these cuties are great. as you can tell, all have chest patches save kit kat. all have white tail tips and face stripes. lindt is really neat; a kuroi inu-type cali mix, all black with selfie lids and black eyes.


mulan (f) ♥ ting ting (f) ♥ li shang (m) ♥ mushu (m) ♥ hua li (f)
and a classic tamsin litter! was pleased with all the coat colors this pairing threw, they're all quite perfect <3


one (m) ♥ two (m) ♥ three (f) ♥ four (f) ♥ five (m)
cute lil GROMPY b&ws with very creative names! one, two and three have pufftails (one and three have chinchi tails). face stripes are visible. love five's chest patch.


idyllic (f) ♥ supine (f) ♥ aurora (f) ♥ cromulent (m) ♥ elusive (m)
lil velveteens. not much to say except these are beautiful kitties. idyllic, supine and elusive have chest patches. all have white tail tips except idyllic, who is also the only kitten with a pufftail.


constellation (m) ♥ galaxy (m) ♥ stars (f) ♥ comet (f) ♥ moon (m)
:o the most perfect rb litter, right? i am so tempted to steal constellation and moon. all have pufftails. def breeding this pair again in the future!

desert (m) ♥ sand (f) ♥ heat (f) ♥ dune (f) ♥ oasis (f)
unique lil oshie litter. all have pufftails. sand is just too adorable. i expected more pink eyes from this pair as their dad has them, but they are still super cute!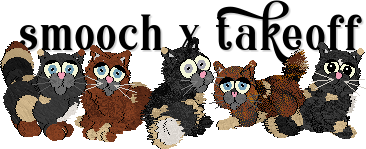 virgo (m) ♥ gemini (m) ♥ taurus (m) ♥ capricorn (m) ♥ sagittarius (f)
more persian mixies! sagittarius is a black-eyed, black persian with black lids. she is so unique! virgo has a smooth coat. all have alley markings.


cheerio (f) ♥ mueslix (m) ♥ froot loops (f) ♥ chex (m) ♥ special k (f)
did someone say... mini danes? these are so sweet. froot loops and cheerio are normal-sized, and cheerio has puffy paws. all but mueslix have pufftails. neat ear variety here.


twist (m) ♥ kaleidescope (f) ♥ sparkle (f) ♥ mosaic (m) ♥ colors (f)
breeding request! not much color diversity, but i love these guys! all have pufftails except for kaleidoscope. mosaic and colors have large paws <3

lady (f) ♥ fig (f) ♥ pepsi (m) ♥ toast (m) ♥ lychee (f)
cute lil persian litter. love these!! fig of course has selfie lids. all have chest patches and pufftails. not much to say except persians are underrated! <3


piper (m) ♥ penny (f) ♥ holly (f) ♥ margaux (f) ♥ peaches (m)
oshies! i believe it's just penny and holly that have oshie personalities. penny, margaux and peaches have larger feet. all have pufftails and all but peaches have chest patches.


beatier1 (f) ♥ beatier2 (f) ♥ beatier3 (f) ♥ beatier4 (f) ♥ beatier5 (f)
breeding request. really interesting mix, love the diversity in the breeds! 3 is of course kinda puffy everywhere, it's very cute. i believe 5 has an alley tail. all have alley markings.


pencra1 (f) ♥ pencra2 (m) ♥ pencra3 (f) ♥ pencra4 (m) ♥ pencra5 (m)
breeding request. 1 & 3 have pufftails. all have chest patches. nice color variations going on here!


minpen1 (m) ♥ minpen2 (f) ♥ minpen3 (m) ♥ minpen4 (m) ♥ minpen5 (m)
another breeding request! y'all really like your tamsins! 4's a trotter of course. loving the smooth coats!


dana (f) ♥ leni (f) ♥ oscar (m) ♥ leon (m) ♥ katyushka (f)
fun pairing! dana and oscar grow into huge oshies with larger than usual irises, it's super unique! leon has xl paws which i think looks adorable on him.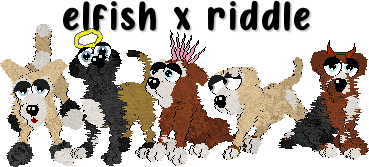 elfrid1 (f) ♥ elfrid2 (f) ♥ elfrid3 (f) ♥ elfrid4 (m) ♥ elfrid5 (m)
breeding request! 1 & 4 trot. 1 has very puffy paws! cute pairing.


bec1 (m) ♥ bec2 (f) ♥ bec3 (m) ♥ bec4 (f) ♥ bec5 (f)
breeding request! 1 & 4 have docked tails. all but 3 & 4 have chest patches.


elecrid1 (m) ♥ elecrid2 (m) ♥ elecrid3 (f) ♥ elecrid4 (m) ♥ elecrid5 (f)
breeding request! 2, 3 and 4 are trotters. all are hounds of course. cute pairing, love the spots peeking through on 1's chest patch :)


Windhelm (f) ♥ Whiterun (f) ♥ Markarth (m) ♥ Helgen (m) ♥ Solitude (m) ♥ Riften (f)
i'm not even joking with these. omg. yes, that is a trotting chi. BITE SIZED DOGS come on!!! they do grow a decent amount, ex. markarth grows into a full-sized daschie. whiterun has thiccc paws. <3


Limerick (m) ♥ Elegy (f) ♥ Ballad (f) ♥ Sonnet (m) ♥ Haiku (f)
ummm hello love these huge paws and pufftails! both parents trot but none of the puppies do, they should have a higher chance of passing it down though i think! might ask for a few words for limerick, such a beaut!


Geranium (f) ♥ Snapdragon (m) ♥ Peony (f) ♥ Crocus (m) ♥ Dandelion (m) ♥ Blossom (m)
all have pufftails. i didn't expect tabby mixies from this alley pairing, but they are great <3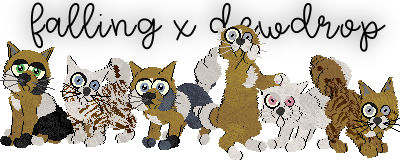 Tulip (f) ♥ Orchid (m) ♥ Poppy (m) ♥ Tuberose (m) ♥ Snowdrop (m) ♥ Marigold (m)
all have pufftails again! same pairing as above. more face stripes in this litter.


Masala (m) ♥ Cinnamon (f) ♥ Bay (m) ♥ Cumin (m) ♥ Thyme (m)
some tabby mixies - lots of alley markings here! cinnamon, bay and cumin have regular tails. loving the coat colors!


Rowan (m) ♥ Bloodthorne (m) ♥ Regal (f) ♥ Peanut (m) ♥ River (m)
i loved this pair so much that i bred two litters, lol. love all the mottled coats! all have pufftails. bloodthorne's eye color just goes so well with his coat, his colors are so cohesive.


Woolson (m) ♥ Mocha (f) ♥ Slate (f) ♥ Fischer (m) ♥ Brisbane (f)
sooo happy to be breeding some tamsins! these two are actually downloads i found and wow am i happy with the pairing! the docked tails are adorable and a decent amount of variation going on. slate is so special - love her all grey look.


Paonia (f) ♥ Leo (m) ♥ Hallow (m) ♥ Rory (f) ♥ Chico (m)
first litter of the reopening! some cali mixies because i am predictable. rory is a total show girl, she honestly would not stop posing. super cute. lots of chest patches and face stripes in this litter. love the little cheeky halloween coloring too!

form

© scribble