adopt
all petz are bred in p4. please keep harvest's in the show prefix. POTL, adopted, special note. don't put 'em up for download, but there otherwise they're yours! application form is at the bottom of the page. please feel free to request a litter. newest litters at the top.
pivot x cricket

berg (m) ♥ aqua (m) ♥ ramsey (f) ♥ peanut butter (m) ♥ trocadero (f)
cute lil chi mixies. berg ofc has a bobtail and the rest have pufftails. pictured as adults because some are smaller as puppies and appear as minis. berg and peanut butter trot.

komorebi x flynn

treason (m) ♥ myriad (f) ♥ fungi (m) ♥ charisma (m) ♥ typhoon (f)
these were certainly inspired by all the lovely bred pets with this breedfile, esp during the holidays! using amanda's smoke and tabby maine coon ow of course. i'd like a short app for these please, since the breeding was longer and i sought out the textured coats :) let me know why you chose the one you did, because i want to steal em all <3

misc. meezer mixies

ceramide (m) ♥ rosehip (f) ♥ salicylic (m) ♥ azelaic (f) ♥ squalene (f)
ceramide looks like a short meezer but he does grow to be regular sized :) rosehip and squalene have chinchi puffy tails. all have black lids, face stripes and chest patches.

pepi x flynn

bertie bott beans (f) ♥ butterbeer (m) ♥ treacle tart (m) ♥ pumpkin pasty (f) ♥ chocolate frog (f)

absolute perfection of a velveteen litter. i want to keep all of them hahah. these kittens will likely be amazing breeders, since their parents consistently threw very different looking kittens.





pumpkin x crumble

marshmallow (f) ♥ apple (f) ♥ neverwas (f) ♥ fanfare (f) ♥ brindle (m)
ahh be still my heart! i didn't realize i loved poodle-eared sheepie mixies till i adopted a lovely pup with bec with poodle ears. despite some of these pups having white lids (apple, brindle and neverwas), these are just too cute. apple is the only one with a full tail i believe.

permafrost x oswald

demi lune (f) ♥ billot log (f) ♥ ah caramel (f) ♥ jos louis (m) ♥ passion flakie (f)
mutt mixies named after popular quebec sweets lol. very fuzzy and cute. love that this pair threw icy, slothy, pink and blue eyes!

mushroom x winter white

snuggle (f) ♥ blanket (f) ♥ fireplace (f) ♥ warm (m) ♥ cuddle (f)
sweet little oshie litter. all grow to be full-sized. lots of fun textures :')

maverick x neo

stormy (m) ♥ jinnie (f) ♥ jumbo (m) ♥ item (m) ♥ stray (m)
a cheeky chi litter - i find them so hard to find so hopefully someone else will love these pups too. jinnie trots and stormy & jumbo are the only ones with full tails. all of these grow to be full-sized / regular-sized chis.

mince pie x yule log

minyu1 (f) ♥ minyu2 (m) ♥ minyu3 (f) ♥ minyu4 (f) ♥ minyu5 (m)
puppies from two new labs from the advent calendar on whiskerwick! 1 and 2 trot. those orange coat genes are strong! their dad has poodle ears so they carry different eared genes.

snowflake x buttercream

snobu1 (f) ♥ snobu2 (m) ♥ snobu3 (f) ♥ snobu4 (f) ♥ snobu5 (m)
cute mutt mixie litter. 1 & 3 have a brown left ear. love how fuzzy these all are :')

levitate x jenga

levjeng1 (m) ♥ levjeng2 (f) ♥ levjeng3 (f) ♥ levjeng4 (m) ♥ levjeng5 (m)
some sweet cali mixies. all markings are pretty visible :) 3 has a chinchi tail. i love tempus calis and textured calis, so if you're a fan too, i hope you like these cuties :)

maeve x psychic

pers1 (m) ♥ pers2 (m) ♥ pers3 (f) ♥ pers4 (f) ♥ pers5 (f)
love these :) not much to say tbh haha all big floofy persians we know and love!

embroidery x minty

chin1 (f) ♥ chin2 (f) ♥ chin3 (m) ♥ chin4 (f) ♥ chin5 (m)
awww, chinchilla persians!! so underrated imo!! these all grow to be regular chinchi size. love all of these but especially chin3. blep!

lights x moch

coon1 (f) ♥ coon2 (f) ♥ coon3 (m) ♥ coon4 (f) ♥ coon5 (f)
some maine coon mixies from my two cuties from mandi. these are all adorable, it was hard to pick a favorite! coon2 and 3 have angy personalities hahah maybe b&w or alley type of thing? very unique pairing since coons usually have such tame personalities. coon5 is the only one without a pufftail.

legend x sandstorm

rover (m) ♥ katrina (f) ♥ nebula (f) ♥ transcend (m) ♥ laika (f)
just cannot deal with this overwrite, so i'll def be breeding tamsins with it more often in the future! nice mix of coat textures and eye colors here. generally floppy, adorable big bears ;-;

kahlo x situation

lab4 (m) ♥ lab3 (f) ♥ lab5 (f) ♥ lab1 (f) ♥ lab2 (f)
love that the poodle ears passed down! all pups have stub tails. overall fun litter, might try for some fuzzy coated poodle ear lab mixies next :)

citrus x moonshine

dali3 (m) ♥ dali4 (m) ♥ dali5 (f) ♥ dali2 (m) ♥ dali1 (m)
purebred dalis. dali1 and dali4 have 3 spots. dali5 is quite spotty :) happy to breed some dalis after getting some more during dali week at whiskerwick!

pistachio x riverbend

merle (m) ♥ lady (f) ♥ troubadour (m) ♥ reverend (m) ♥ sandy (f)
aww big time cuties! lady and sandy both have pufftails. love lady's selfie lids. reverend's a twin of his dad, pistachio! overall cute, classic tamsins.

misc. dachies

admiral (m) ♥ bea (f) ♥ bonbon (f) ♥ blanche (f) ♥ buck (m)
i love daschies so much, and i see that you guys do, too! buck is smooool. bea, bonbon and blanche have 1 brown ear. bea trots, some others might too, forgot to check :x

riddle x hume
dandy (f) ♥ oliver (m) ♥ palermo (f) ♥ halloween (m) ♥ pear (m) ♥ shenanigan (m)
bred with sexpot lida's doberman dane OW after being inspired by a litter joni bred on whiskerwick with the same file. these were so much fun to breed! not only is the breed cute, but the variations in coat colors and eye colors was already really neat. palermo and shenanigan trot. palermo's neck looks a bit odd on the pic but her body is the same as the other pups :)

juniper x situation

volcano (m) ♥ deadpan (m) ♥ kilter (m) ♥ devilish (m) ♥ ghost (m)
lab mixies with fun chi ear variations. ghost has brown lids. devilish, kilter and ghost have stub tails. ghost's tail is puffed. i honestly don't remember if deadpan has a full tail, but he's a cutie nonetheless.

jumpscare x ellison

indent (m) ♥ matthias (m) ♥ dynamic (m) ♥ silver (f) ♥ offbeat (m)
love the coon mixies this pair threw! all are normal-sized as adults, but the oshies are a bit smaller as kittens. really neat coat color variations here - not what i predicted from this pair but i'm pleasantly surprised!

wilder x bandit

wood (f) ♥ prohibition (f) ♥ squirrel (f) ♥ slimy (m) ♥ leather (f)
lil cheeky mini cali mixie litter! just look at slimy, honestly oh my gosh. what a little cutie. of course wood and slimy are the minis. all others are normal-sized - some of the oshies look smaller as kittens, but they do grow to be full-sized. prohibition is a normal cali-sized MPC, though all kittens in this litter have meezer points. sadly, i think wood's file might be corrupted, but if you apply for her, let me recheck and i'll let ya know.

february x limbo

penelope (f) ♥ garbo (f) ♥ biscotti (m) ♥ ricardo (m) ♥ lizard (m)
mini dane litter. all of them trot except for biscotti. garbo and biscotti have pufftails. ricardo of course has poodle ears. loving the red coats!

bingo x moon

trigger (m) ♥ guinivere (f) ♥ caraway (f) ♥ pariah (m) ♥ bonanza (f)
i think that russian blues are my favorite cat breed at this point, i love their personalities and body shape! i find them terribly underrated. guinivere has totally stolen my heart, i might just steal her.

witchy x spear

greta (f) ♥ mini (f) ♥ memphis (m) ♥ albus (m) (trots) ♥ christmas (f) (trots)
a small app for greta, pls! she is an absolute knockout! albus and christmas are trotters. albus is pure white. christmas has a big pufftail. mini is well, miniature! she also has a dane tail. memphis and christmas have selfie lids.

madge x khaki

puzzle (m) ♥ october (f) ♥ deviant (m) ♥ imogen (f) ♥ clover (f)
some sheepie mixies! how cute are these lil guys?! all of them have full tails and white markings of some sort. i'm really impressed with both the coat color variation and the eye color variation. now if i'd get some pink-eyed sheepie, i think i might do a lil happy dance.

chestnut x toffee

clinton (m) ♥ byleth (f) ♥ jennifer (f) ♥ adriana (f) ♥ shiitake (m)
purebred dalis from my two newbies from amanda ♥ i was surprised by all the brown, since neither of the parents have brown coats! shiitake has almost selfie lids, but not quite. loving the eye color variation here!

cryo x sugar cookie

mulan (f) ♥ ting ting (f) ♥ li shang (m) ♥ mushu (m) ♥ hua li (f)
and a classic tamsin litter! was pleased with all the coat colors this pairing threw, they're all quite perfect <3


idyllic (f) ♥ supine (f) ♥ aurora (f) ♥ cromulent (m) ♥ elusive (m)
lil velveteens. not much to say except these are beautiful kitties. idyllic, supine and elusive have chest patches. all have white tail tips except idyllic, who is also the only kitten with a pufftail.


constellation (m) ♥ galaxy (m) ♥ stars (f) ♥ comet (f) ♥ moon (m)
:o the most perfect rb litter, right? i am so tempted to steal constellation and moon. all have pufftails. def breeding this pair again in the future!

ellison x whey
desert (m) ♥ sand (f) ♥ heat (f) ♥ dune (f) ♥ oasis (f)
unique lil oshie litter. all have pufftails. sand is just too adorable. i expected more pink eyes from this pair as their dad has them, but they are still super cute!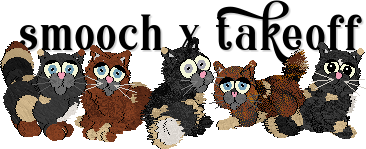 virgo (m) ♥ gemini (m) ♥ taurus (m) ♥ capricorn (m) ♥ sagittarius (f)
more persian mixies! sagittarius is a black-eyed, black persian with black lids. she is so unique! virgo has a smooth coat. all have alley markings.

limbo x sprout

cheerio (f) ♥ mueslix (m) ♥ froot loops (f) ♥ chex (m) ♥ special k (f)
did someone say... mini danes? these are so sweet. froot loops and cheerio are normal-sized, and cheerio has puffy paws. all but mueslix have pufftails. neat ear variety here.

pensieve x crash

pencra1 (f) ♥ pencra2 (m) ♥ pencra3 (f) ♥ pencra4 (m) ♥ pencra5 (m)
breeding request. 1 & 3 have pufftails. all have chest patches. nice color variations going on here!

minerva x pensieve

minpen1 (m) ♥ minpen2 (f) ♥ minpen3 (m) ♥ minpen4 (m) ♥ minpen5 (m)
another breeding request! y'all really like your tamsins! 4's a trotter of course. loving the smooth coats!

bounce x critter

dana (f) ♥ leni (f) ♥ oscar (m) ♥ leon (m) ♥ katyushka (f)
fun pairing! dana and oscar grow into huge oshies with larger than usual irises, it's super unique! leon has xl paws which i think looks adorable on him.

journey x red velvet

Windhelm (f) ♥ Whiterun (f) ♥ Markarth (m) ♥ Helgen (m) ♥ Solitude (m) ♥ Riften (f)
i'm not even joking with these. omg. yes, that is a trotting chi. BITE SIZED DOGS come on!!! they do grow a decent amount, ex. markarth grows into a full-sized daschie. whiterun has thiccc paws. <3

elfish x reluctance

Limerick (m) ♥ Elegy (f) ♥ Ballad (f) ♥ Sonnet (m) ♥ Haiku (f)
ummm hello love these huge paws and pufftails! both parents trot but none of the puppies do, they should have a higher chance of passing it down though i think! might ask for a few words for limerick, such a beaut!

falling x dewdrop

Geranium (f) ♥ Snapdragon (m) ♥ Peony (f) ♥ Crocus (m) ♥ Dandelion (m) ♥ Blossom (m)
all have pufftails. i didn't expect tabby mixies from this alley pairing, but they are great <3

tiernan x selwin

Masala (m) ♥ Cinnamon (f) ♥ Bay (m) ♥ Cumin (m) ♥ Thyme (m)
some tabby mixies - lots of alley markings here! cinnamon, bay and cumin have regular tails. loving the coat colors!

lassie x horatio

Rowan (m) ♥ Bloodthorne (m) ♥ Regal (f) ♥ Peanut (m) ♥ River (m)
i loved this pair so much that i bred two litters, lol. love all the mottled coats! all have pufftails. bloodthorne's eye color just goes so well with his coat, his colors are so cohesive.

form

© scribble